Dalmatian dishes
A WIDE RANGE OF THE MOST POPULAR DALMATIAN DISHES.

Food lovers (also known as gastronomads) are not going to be reluctant when it comes to choosing the dishes to taste fIrst upon their visit to numerous restaurants and taverns in Okrug.
Dalmatian saying
Namely, local chefs are real experts at preparing fresh fish!
There is a Dalmatian saying: "A fish should swim three times: in the sea, in olive oil and in wine" meaning that it is served best with some healthy olive oil and combined with a top-quality local wine.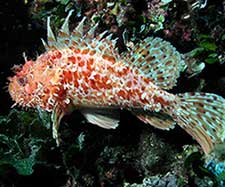 Fish specialties
The list of true fish specialties that you can taste here is really a long one, including a grilled sea bream, a boiled grouper, sea bream, sea bass, Zeus Faber etc. Shellfish dishes are also tasty, and if you really wish to treat yourself to a royal meal, order a lobster or an octopus under the bell!
Cooked under the bell
In additon, the favorite type of dish is meat prepared under the bell consistng of veal or lamb, and along with the rich taste of food prepared under the clay or iron "bell" obtaned in this way, the food prepared in such a way is both cooked and baked at the same time!
---
Riviera Okrug-Trogir :: Gastronomy map
One of the most common dishes to be served at the tables in Okrug, particularly on special occasions, is also grilled lamb, as well as a Dalmatian beef stew (cro. dalmatinska pašticada), which, due to the complexity of its preparation, has been inscribed onto the List of Croatian Culinary Heritage Sites!
Such a delicious dish must be accompanied by some of the top-quality local red wines, and if you prefer white wine, order a 'bevanda' (a combination of wine and still water) or a 'gemišt' (a combination of wine and sparkling water), like a true Dalmatian!
If you prefer pastry, try a Dalmatian 'rožata' (a custard pudding), 'paradižot' (sweet snow dumplings made with eggs and milk) or 'rafioli' (crescent-shaped biscuits with a sweet filling) from Trogir with an interesting legend attached to them related to their origin, and, as an act of hospitality, the kind hosts in Okrug will serve you a popular traditional starter – Dalmatian smoked ham and cheese.